X-Deluxe Aero Series Air Conditioner
Clean air is essential for healthy living.  Panasonic Air Conditioner provides quality air that helps people live more comfortably, for diverse lifestyles and various occasions.
Delivering comfort, health and better well-being through Quality Air for Life. 


nanoeTuX, nanoe-G, Inverter, ECO+A.l., R32 Refrigerant, AEROWINGS (Shower Cooling & Direct Cooling), 5-Star Energy Rating. 
nanoe Technology 24hrs Quality Air
The new Panasonic Air Conditioner with nanoe Technology features an independent air purification function that can address various types of pollutants in the air as well as on surfaces especially fabries.


nanoe X vs nanoe-G
The water-based nanoe X particles can effectively reduce strong odours and inhibit harmful pollutants like bacteria and viruses, mould, allergens, pollen and hazardous substances. The nanoe X particles can even moisturise skin and hair.

nano-G with negative ions can effectively remove dust particles as small as PM2.5. Thus, ensuring your loved ones enjoy better indoor air quality at all times.

Reduces Frequently Encountered Odours
 nanoe X reduces strong. adhesive odours by deeply penetrating into fabrics. resulting lasting freshness in your living space. 




- BBQ Odour - 

- Sweat Odour 

- Cigarette Odour 

- Durian Odour 
nanoe Actively Purifies Air & inhibits pollutants all day long
Purify with cooling off

You may leave nanoe mode ON to deodorise inhibit pollutants and remove dust particles(PM2.5). Low energy consumption with fan mode 25W per hour for a single unit.


Maintenance-Fee

No maintenance required for nanoe X generator device.



Remotely Control Air Conditioners with Smartphone
The Panasonic Comfort Cloud Application + optional network adaptor enables you to conveniently manage and monitor multiple air conditioning units for homes from just 1 mobile device.


Wireless LAN Remote Control For Internet


Connection ( optional network adaptor) applicable to ELITE INVERTER R32. X-PREMIUM INVERTER R32, PREMIUM INVERTER R32, X-DELUXE INVERTER R32 and STANDARD INVERTER R32( 1.0HP-2.0HP)


ECO+A.I.-Eco-Friendly Technology
Automatically adapts to your home and maximises energy savings. The new Panasonic ECO Mode with Artificial Intelligence (A.I.) Control learns about your room environment. Energy saving is maximised in each room's environment as it auto-adjusts to the optimal ECO level based on heat load conditions and air conditioning capacity

1) Room Condition
2)Heat Sources due to:
(A) Sunlight and lighting in the room
(B) Computers and appliances
(C) Body Heat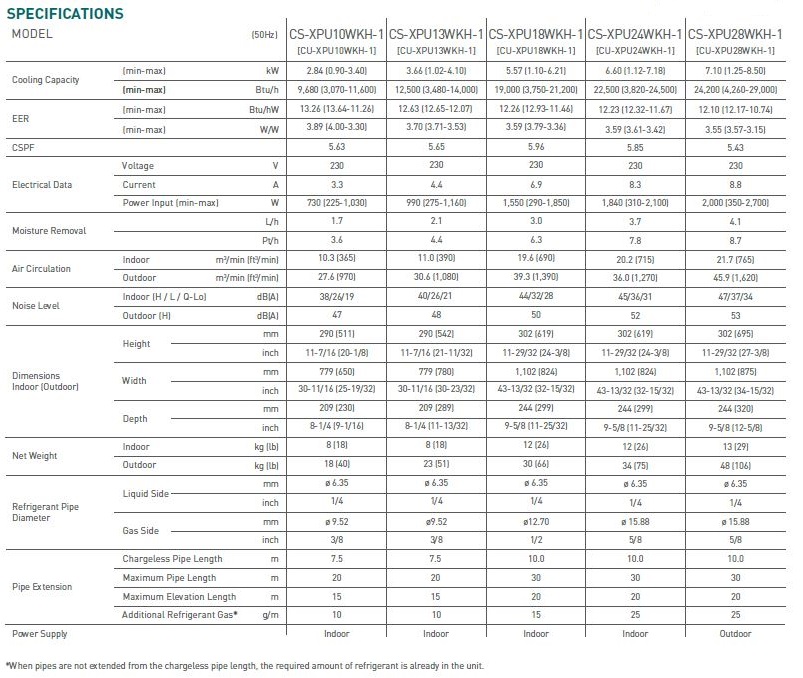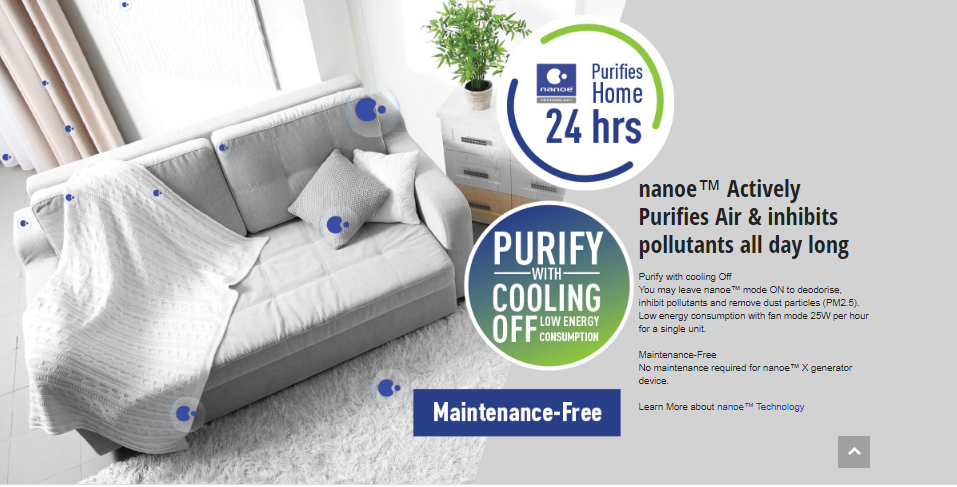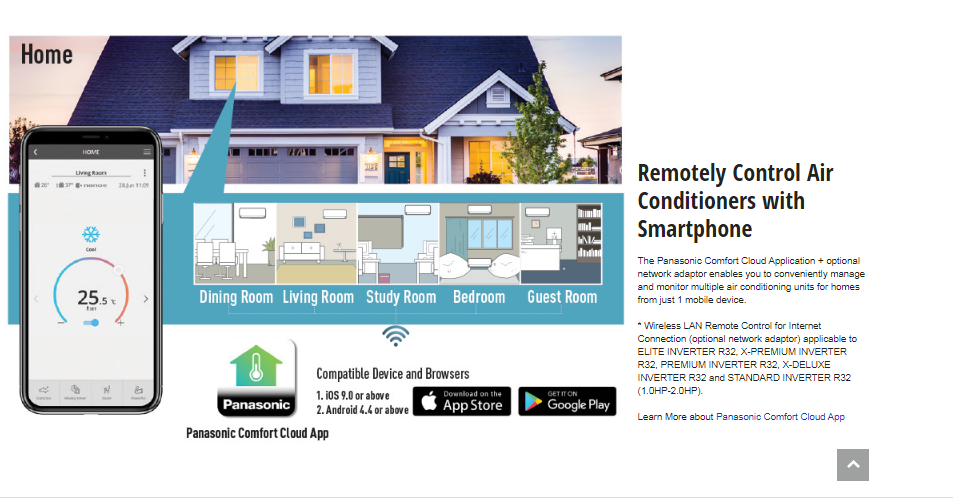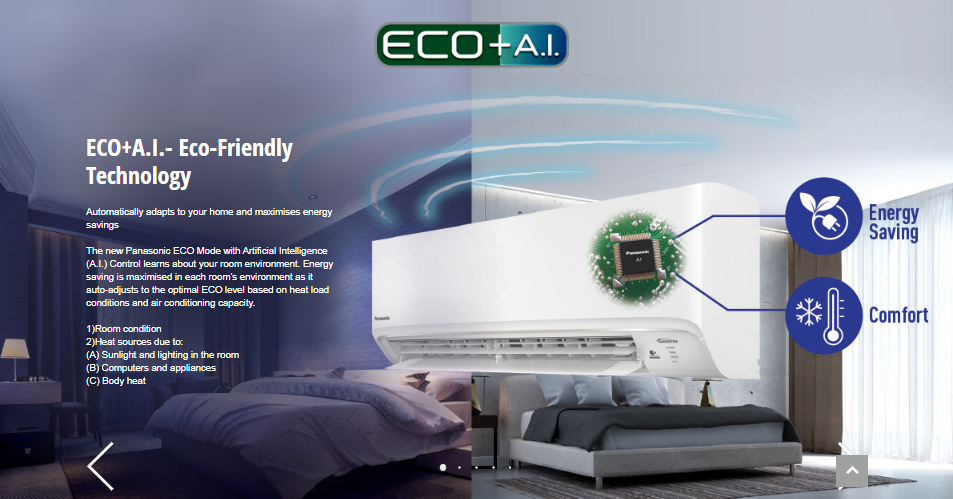 Installation details:
The price is for unit +  installation 
Extra piping charges for:
Extra PVC pipe (15mm)charges
Rm 10 per length (10feet)
-Wiring point from plug point with on off switch Rm 80
-Wiring point from DB with on off switch Rm 180 to 280 depend on distance and site conditions (2hp and 2.5hp) 
-Pvc trunking Rm 50 per lgth (6feet).
-Hacking and install Ac piping works Charges : Excluded ceiling patching ,wall cement plastering and painting works.
1.

Within 3ft (1meter) rm150
2.

Within 6ft (2meter) rm250
3.

Within 10ft (3meter)rm400
-DISMANTLING OLD UNIT RM 80.00 PER SET WILL BE WAIVED IF WE TAKE BACK THE OLD SET
-A SURCHARGE OF RM30 for DATE CHANGE OF MIND after TECHNICIAN TEAM ARRIVED
Installation coverage area :
Ampang
Bandar Baru Bangi
Bandar Baru Selayang
Bandar Utama
Batu Caves
Bukit Damansara
Cheras
Cyberjaya
Damansara 
Gombak
Hulu Langat
Kajang
Kelana Jaya
Kepong
Klang
Kota Damansara
Kuala Lumpur
Petaling Jaya
Puchong
Putrajaya
Rawang
Segambut
Selayang
Semenyih
Sepang
Seri Kembangan
Shah Alam
Sri Petaling
Subang Jaya
Sungai Buloh
Taman Melawati
Taman Tun Dr Ismail
USJ